Health
Maximum
10
Flees at
5 to 7
Attack
Primary Attack
Sword
Damage
2 to 6
Secondary Attack
Bow
Damage
1 to 6
Behaviour
Alertness
low
Aggressiveness
moderate
Speed
slow
Other
Variations
armed with sword or bow
You may be looking for Bafford Sergeants or Bafford Front Gate Guards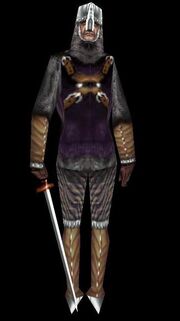 The guards found in Lord Bafford's Manor, often referred to as Bafford guards, are relatively sloppy and slow guards found throughout the level. The guards carry either a sword or a bow, and deal the same damage as Garrett's sword and bow. These guards are mainly found in Thief: The Dark Project/Thief Gold - "Lord Bafford's Manor". There are some missions (e.g. Assassins and Thieves' Guild) in which the Bafford Guards are used as street patrol and won't react upon spotting Garrett, unless being threatened.
Lord Bafford's guards are not very alert and are located sparsely around the mansion, so avoiding them should not be difficult. They are slow and imprecise and only moderately aggressive. It should not be difficult to lose them.
Appearances
Edit
Thief: The Dark Project/Thief Gold
Edit
Enemies, Creatures and Characters
Ad blocker interference detected!
Wikia is a free-to-use site that makes money from advertising. We have a modified experience for viewers using ad blockers

Wikia is not accessible if you've made further modifications. Remove the custom ad blocker rule(s) and the page will load as expected.