See also, Cat O' Nine Tails and Cat Statuette.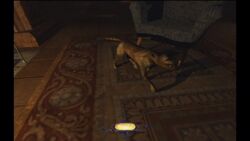 The cat is the bane to the scurrying mouse and the disease carrying rat. There do not seem to be enough cats; rats are constantly running amok, blamed for footsteps, open doors, extinguished torches and missing guards.
Sutter had a break-in sometime before Garrett broke into the Downwind Thieves' Guild. He heard someone outside the room he was in, so he began ransaking everything he could get his hands on. Upon his escape, he finds that the bag is moving about violently. He somehow shoved the cat in the bag, which the cat had just put a hole in. Everything except the cat, which is crawling up Sutters arm, falls out. He had to jump in the river to get rid of it, and left a trail of blood and water, "over half The City".[1]
When looking for Garrett, the Ape Beast may compare Garrett to a mouse, and itself to a cat.[2]
The cat's natural enemy is the Dog.
The cat is not hostile, but will meow loudly and run away if Garrett gets to close to it. It is immune to Gas Arrows (but not Gas Bombs), does not slip on oil or choke on moss, and cannot be blinded. It will not behave any differently in the presence of a rat, as neither animal will notice the other.
Appearances
Edit
Thief: Deadly Shadows
Edit
References
Edit
Ad blocker interference detected!
Wikia is a free-to-use site that makes money from advertising. We have a modified experience for viewers using ad blockers

Wikia is not accessible if you've made further modifications. Remove the custom ad blocker rule(s) and the page will load as expected.