Loot
Talk

2
4,732pages on
this wiki
Category page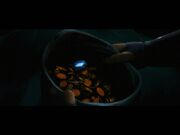 Loot plays a major role in the Thief games, and is found in game levels, hidden, disguised or locked away.
Garrett needs to collect loot to make a living. Extra cash can be used to purchase weapons and tools from shops between missions.
Stolen loot (including money, oddly enough) is exchanged for cash on the Black Market, with available fences.
Expendable weapons can also be found as loot within game levels, often disguised into the environment much like other types of valuable loot. The respective weapon is added to Garrett's inventory, and is available for immediate use.
In Thief: Deadly Shadows, three types of loot existed, with each fence being willing to take two types of loot off the player, in exchange for gold.
Metal - gold, silver, copper, coins, and other precious metals
Gems - rubies, emeralds, diamonds, jewelry, and items made from them
Artwork - things that have more collector value than material
Appearance
Edit
In Thief: The Dark Project, Thief Gold and Thief II: The Metal Age finding loot was difficult as was camouflaged and hidden into the game levels.
Lucky Coins, T2

Ramirez Signet Ring, T1

Mystic's Heart and Mystic's Soul, T1

Added by

Dan7

Opera Glasses, TG

Added by

Dan7
In Thief: Deadly Shadows however, a sparkle was added to every piece of loot and a blue shine to every other item in the game making it much easier to spot and therefore, walk up to and pick up/steal. Also the gold value of the stolen object is displayed after players steal it, as shown below. Another welcome change was that in the major missions when loot was picked up, the game also told you immediately what percentage of the loot for that mission you had currently acquired with the addition of the newly stolen item.
Black Market, Shops who deal in items, and Fences who deal in loot
External Links
Edit
John P's Texture Pack for T3 typically removes the Loot glint, making gameplay as challenging as the previous Thief games. Players that prefer the light blue "selection" that appears over objects or loot should leave the "Glint" option unchecked at the time of Texture installation.
Subcategories
This category has the following 12 subcategories, out of 12 total.
Pages in category "Loot"
The following 139 pages are in this category, out of 139 total.
A

B

C

D

E

F

G

G cont.

H

I

J

K

L

M

N

O

P

R

S

T

V

W