"
Heh. Yo ho ho and a bottle of rum!
"
 
— Garrett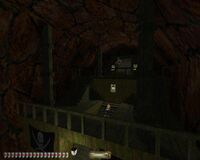 Catherine's Folly was the ship of Captain 'Dark' Markham. The ship's wreckage was buried in a cave beneath Markham's Isle, where the Mechanists, who had a base nearby, had assigned people to find the treasure in the hold[1]. The Captain left a note behind, warning others not to seek his treasure[2]. Recklessly ignoring his warning and stealing his treasure would summon his own ghost.
Catherine's Folly have a long set of rules that were to be strictly followed by all members of the crew.[3].
References
Edit
Ad blocker interference detected!
Wikia is a free-to-use site that makes money from advertising. We have a modified experience for viewers using ad blockers

Wikia is not accessible if you've made further modifications. Remove the custom ad blocker rule(s) and the page will load as expected.