Ad blocker interference detected!
Wikia is a free-to-use site that makes money from advertising. We have a modified experience for viewers using ad blockers

Wikia is not accessible if you've made further modifications. Remove the custom ad blocker rule(s) and the page will load as expected.
Health
Maximum
10
Flees at
3
Attack
Primary Attack
Sword
Damage
2 to 6
Behaviour
Alertness
Average
Aggressiveness
Average
Speed
Average
Other
Variations
purple-yellow and red uniform, Thief 3 guards
In Thief 2, the majority of households use common mercenary sword and bow guards, instead of a huge variety of specific guards (e.g. Bafford or Ramirez guard). Only a few buildings have their own guard type. They have two general variations - a red and a purple-yellow uniform. In a game play aspect, the T2 sword guards are as tough as a regular Bafford Guard, but are actually a lot more adequate and vigilant. These guards fight well and spot a person better than a Bafford guard, but at least die quick.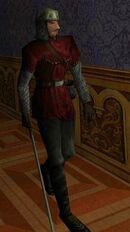 Thief: Deadly Shadows
Edit
Armed with swords and bows, guards are bored, dissatisfied, uneducated, and have nothing better to do than chase intruders. These burly, dangerous men whittle away their time by complaining and pacing back and forth. But, they're quick to jump to the aid of civilians who summon help. Much like the earlier games, guards can wear the colours of their appropriate faction, patrolling houses, castles or stores in order to prevent the owners valuables from being pilfered.
Enemies, Creatures and Characters