Health
Maximum
28
Flees at
unknown
Attack
Primary Attack
Claw Slash
Damage
4 to 7
Behaviour
Alertness
medium
Aggressiveness
high
Speed
medium
Other
Variations
none
body cannot be moved when killed or knocked out
does not drown in water
You may be looking for Craymen.
Craybeasts are crustacean Chaos Beasts and are part of the Trickster's army. They are a more powerful and dangerous type of crayman. They are roughly the same shape and size as a human. Although they do not appear capable of human speech or writing, they do emit a series of chirps and clicking sounds, which may be a form of linguistic communication.
Appearing something like humanoid crayfish, they have a speckled, blue and red, segmented, and articulated chitinous exoskeleton, with large red eyes at the ends of thick fluted stalks, giving their heads a hammerhead shape and they have the ability to breath underwater. The primary mode of attack for craybeasts is using their massive lobster-like pincers as swords.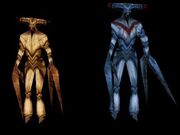 The Craybeasts are tough and difficult to bring down, and it is a good thing they are rare. The best way to defeat them is to sneak up from behind and perform a backstab or knockout. The beast is very skilled at one-on-one fighting. Gas or fire arrows are very effective against craybeast. One major problem with craybeasts is the inability to move their bodies out of the path of their allies once they are unconscious or dead. This can be a major problem, as every Chaos creature moving along the walkway in The Maw of Chaos will see them and raise the alarm. Details on how craybeasts can be defeated are as follows:
Appearances
Edit
Thief: The Dark Project/Thief Gold
Edit
Enemies, Creatures and Characters