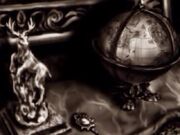 Deer are animals in Thief, though not seen alive in any of the Thief games. What is seen, however, is Deer Legs, which seem to be a lot more common than Cow meat.
In the first TG cutscene, the wide painting on Constantine's mantle shows people fleeing from a herd of enormous antlered creatures. In T2, a small carving on Gervaisius' desk depicting an adult male mule deer is seen in the mission briefing for Casing the Joint.
Deer skull standards are often placed outside
Pagan
sanctuaries in
TDS
.
Behind the scenes
Edit
In
Thief 3 Editor
, there is an unskinned, static mesh of an unused deer trophy.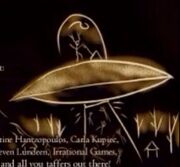 An easter egg near the end of the
credits
for
TDP
and
TG
, a drawing in imitation of Constantine's depicts a huge bipedal antlered creature piloting a flying saucer. This could represent the Trickster, or perhaps some unknown
Chaos Beast
.
Ad blocker interference detected!
Wikia is a free-to-use site that makes money from advertising. We have a modified experience for viewers using ad blockers

Wikia is not accessible if you've made further modifications. Remove the custom ad blocker rule(s) and the page will load as expected.