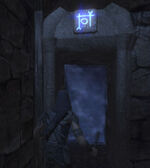 The door glyph is the secret to the Keepers apparent ability to disappear at will.
Invisible to non-Keepers, these glyphs serve as a way to get around The City incognito. Occasionally, the glyph serves as a door to a hiding spot, filled with food, drinks, books, and a stool to sit on. Other times, the glyph is set to bypass gates and barricades. The first time the glyph is seen (in its current use) is in the Keeper Library. The glyph is also used as the game icon on the desktop.
Availability:
Stealth Bonus:
Open areas and passages marked with a Keeper Door Glyph on it
Passing through:

Provides access to secret or restricted areas
Gives a shortcut from area to area
Allows the game to progress

Provides a hiding place from all hostiles
Areas they can be found:
Nowhere. Passive ability.
Maximum amount in inventory:
1 (sufficient for constant use)
Ad blocker interference detected!
Wikia is a free-to-use site that makes money from advertising. We have a modified experience for viewers using ad blockers

Wikia is not accessible if you've made further modifications. Remove the custom ad blocker rule(s) and the page will load as expected.