When the player is more than a certain distance from an AI, that AI is made 'Efficient' Thief no longer moves it's limbs, or monitors it's senses. This property specifies at what distance Thief should make the AI efficient. You can also disable efficiency. Remember than an AI which is efficient cannot be used in a conversation.
Property Name: AI_Efficiency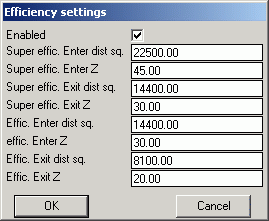 Ad blocker interference detected!
Wikia is a free-to-use site that makes money from advertising. We have a modified experience for viewers using ad blockers

Wikia is not accessible if you've made further modifications. Remove the custom ad blocker rule(s) and the page will load as expected.