This property is used to define various options about a creature's underwater abilities:
Max Air (ms) specifies how long the creature can hold it's breath underwater before taking damage.
Drown Freq (ms) specifies how long after damage occurs to deal additional damage.
Drown Damage specifies the amount of damage dealt per 'hit' after the Air Supply is depleted.
Recover Rate determines how fast the Air Supply is replenished out of water. The bigger the number is the quicker the gauge is replenished.
Property Name: BreathConfig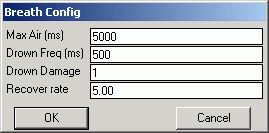 Ad blocker interference detected!
Wikia is a free-to-use site that makes money from advertising. We have a modified experience for viewers using ad blockers

Wikia is not accessible if you've made further modifications. Remove the custom ad blocker rule(s) and the page will load as expected.