This property defines the current state of a lock; with it, you can create a half-locked door. See: Dark GameSys->PickCfg.
CurTumbler is the stage the lock is currently at. Unlike the labels in the PickCfg box, the first stage is 0, not 1.
Pin is the number of pins already picked in this stage.
Done, when set to True, tells the game that the lock has been picked, and cannot be picked again (even if locked).
RandTime probably specifies what TimePct the Randomize Time flag has chosen.
TotalTime seems to be the time spent on the lock, in miliseconds.
StageTime seems to be the time spent on the current pin, also in miliseconds.
Picker is the object number of the creature that is picking the lock.
This property exists so the game can keep partially picked locks from resetting after a pause, and probably shouldn't be used for anything else.
Property Name: PickState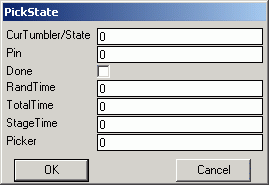 Ad blocker interference detected!
Wikia is a free-to-use site that makes money from advertising. We have a modified experience for viewers using ad blockers

Wikia is not accessible if you've made further modifications. Remove the custom ad blocker rule(s) and the page will load as expected.