Flinderize and reverse link ~Flinderize
This link is used to have an object leave debris ('Flinders') when it is slain. For example, crates Flinderize into small pieces of wood when slain.
From: Object which leaves flinders.
To: Object (or archetype) to be used as a flinder.
Count: The number of this item to be created.
Impulse: The velocity of flinders created. The higher, the further they will fly.
Scatter: When set to False, the flinders are all created in the center of the object, otherwise they are scattered.
Offset: The offset from the object's center at which the flinders should be created. Seem to be incompatible with Scatter.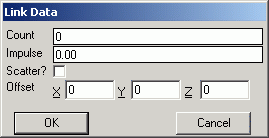 Ad blocker interference detected!
Wikia is a free-to-use site that makes money from advertising. We have a modified experience for viewers using ad blockers

Wikia is not accessible if you've made further modifications. Remove the custom ad blocker rule(s) and the page will load as expected.