These are the desultory notes that Felix gave to Cutty before leaving in search of the Horn of Quintus. They include some brief hints regarding the horn and, more importantly, a map of the Bonehoard.[1] Cutty was arrested by the Hammerites, however, and the notes were confiscated and placed in the evidence box on the top level of Cragscleft. At some point before the TDP/TG mission "Break From Cragscleft Prison", the jackablade, Nammon, stole them and fled into the sewer vaults below the entrance to cell blocks 3 and 4.[2]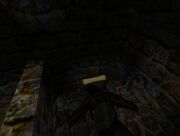 References
Edit
Ad blocker interference detected!
Wikia is a free-to-use site that makes money from advertising. We have a modified experience for viewers using ad blockers

Wikia is not accessible if you've made further modifications. Remove the custom ad blocker rule(s) and the page will load as expected.