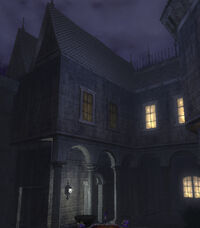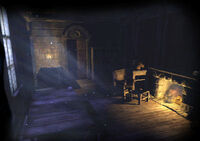 Garrett's Building is a small 2-floored cottage, which contains Garrett's rented apartment and 2 other smaller apartments rented by the City's civilians, apart from the room of the building Landlord, Z. Wicket. Located in the South Quarter, within the City, it contains few valuables due to its poor locality.
It makes its first appearance in Deadly Shadows and can be explored and looted like any other home within the City. The outside of the building is in a separate "load zone" as the inside floors, as is Garrett's apartment.
First Floor
Edit
The First Floor includes 1 room, a hallway and the 3 other rooms. After entering the building through the front gate, the entrance room is visible on the first floor. A stairwell leads to the next floor.
There is a friendly guard on duty named Bob who patrols the main hallway. The other 2 rented apartments are accessible from two doors on the main hallway, at the end of which is a little room, or study, possibly for the guard. The landlord's room is behind a locked door, with a 6-stage lock installed although it can be easily broken into by Garrett using his Lock Picks. A stairwell opposite the landlord room door leads to Garrett's apartment, on the next floor.
Second Floor
Edit
The Second Floor includes 4 rooms, all rented by Garrett, literally, his own floor. Immediately after entering past Garrett's main door, a living room is visible, which often includes a few Weapons scattered here and there. Past the bedroom is a Garrett's practice room. A practice lock can be purchase from a Blackmarket store, where the player can hone his Lock picking skills. A punching bag and target is also available for practicing Blackjacking and improving accuracy of firing Broadhead Arrows. Once shot to the wooden target or walls, the arrows can be picked up for reuse.
Ad blocker interference detected!
Wikia is a free-to-use site that makes money from advertising. We have a modified experience for viewers using ad blockers

Wikia is not accessible if you've made further modifications. Remove the custom ad blocker rule(s) and the page will load as expected.