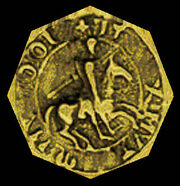 This very rare version of coin first appeared in Thief Gold as the famous giant coins, behind the couch cushions in the Little Big World. In Thief II: The Metal Age this coin model was reshaped to the scale of an ordinary coin. This coin type follows a common real world medieval practice of portraying a horseman.
The coin has two numerical inscriptions: 100, denoting its value in some unknown currency, and XMVI (996 incorrectly written in roman numerals) which is most likely the date.
Loot Type: Gold
Most Common Value:
Thief Gold: 10 gold
Thief 2: 5 gold
Model Name: coinbig
Ad blocker interference detected!
Wikia is a free-to-use site that makes money from advertising. We have a modified experience for viewers using ad blockers

Wikia is not accessible if you've made further modifications. Remove the custom ad blocker rule(s) and the page will load as expected.