Golden Bones Set
Talk

0
4,732pages on
this wiki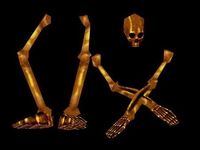 Location: Bonehoard
Set Items: two golden arms, two golden legs and a Skull
Value: None in money. When the full set is collected and put into the golden coffin in the special chamber, next to the Mystic's Soul zombie room, it will reward the adventurer with 8 water arrows, 4 fire arrows, and 1 vial of holy water.
Information
Edit
Nothing is actually known about the Golden Bones or their origin. The skull and one of the legs are found by Garrett, lying next to the coffin itself, while the rest of the set's pieces are scattered around the Halls of Echoing Repose. The coffin chamber itself has a shining hammer-shaped hole in its ceiling. Apart from those facts no writing about the set were found and this leaves everything else to speculations.
In the T2 mission "Blackmail", a golden skull worth 100 gold can be found in the Haunt infested tomb below the Hammerite chapel, although it does not appear to have any affiliation.
Artifacts and Special Loot