Health
Maximum
unknown
Flees at
unknown
Attack
Primary Attack
magic gear
Behaviour
Alertness
unknown
Aggressiveness
unknown
Speed
unknown
"
No, thou doest not understand. 'Tis...that...clock....
"
 
— Hobart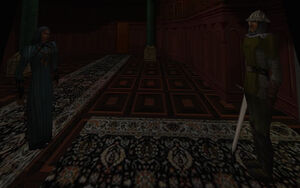 Foreman Hobart is the Mechanist in charge of preparing all mechanical devices in the home of Lord Gervaisius for the exhibition which was to take place there. Steward Duma assigned her a number of tasks, including the maintaenance of all Watchers, assembly of the Builder's Children and ballroom display booths, fixing the various clocks in the mansion, and even the tuning of musical instruments.[1]
In Casing the Joint, Hobart tells Sergeant Porter of Duma's irrational demands and of the loss of a special clock part needed to open the secret passage to the top floor.[2] Fortunately, by the time of Masks, someone had found the piece and repaired the clock that controls the door.[3]
Hobart appears in-game as a Priestess, but is referred to as a male in all of the texts.
References
Edit