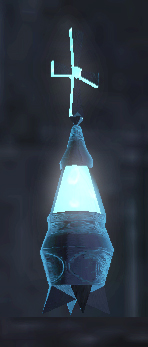 The Holy Water Flask is a bottle of holy water that kills undead on contact.
The Hammerites possess the means to bless water with the power to counteract and damage the undead.
There are different applications for holy water, but is primarily used by Garrett to kill undead.
Cost: Cannot be bought, though it is available in certain city locations and [missions.
Available in:
Thrown on undead for instant kill
Thrown on ground for a holy water barrier

Undead will not pass or walk on this puddle

Does not hurt humans or other creatures though
The holy water will instantly kill all undead that touches it
Tactical Information
Edit
The Holy Water Flask contains a liquid sanctified by the Hammerites for the purpose of protection against the Undead. Unlike in T1/G, this Flask is directly used on undead or on the ground.
Ad blocker interference detected!
Wikia is a free-to-use site that makes money from advertising. We have a modified experience for viewers using ad blockers

Wikia is not accessible if you've made further modifications. Remove the custom ad blocker rule(s) and the page will load as expected.