"
You'll never believe it, Robert, the servants have had the impertinence to refuse me a glass of wine. No, not even my Ginny!
"
 
— The Widow Moira
For the TG criminal, see Ginny (T1/G).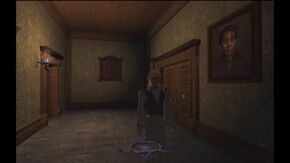 Ginny is the head servant of Captain Moira, and the most loyal and trustworthy of his house staff. She took on the task of informing Edwina of the tragic return of the Abysmal Gale.[1] Captain Moira left Ginny instructions that, if he did not make it home, Ewdina should listen to a message on the old Mechanist Viktrola in her bedroom.[2]
Ginny can be found (wearing a white dress) in the rotunda of Overlook Mansion in the TDS mission "The House of the Widow Moira". Caring much for her employer's safety, she is concerned about the widow's pacing around the cupola, as well as the mischievous activity of the house guests.[3] Fearing that Edwina might swoon and fall off the roof, she refused to allow any wine to be brought up to her.[4] She upset the servant who went to fetch a bottle, which is probably a common event.
References
Edit