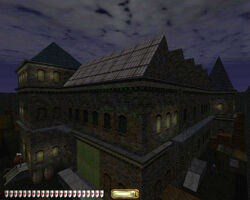 Rampone Dockside Shipping was a business located at 1369 Winston Avenue in the Wayside Dock District, operated by N. Rampone and Jason Rampone. The business served as both a warehouse for shipping contracts and as office space for various small businesses. Garrett visited Rampone Dockside Shipping to earn a little extra money to pay his rent. (T2: "Shipping... and Receiving")
Rampone Dockside Shipping was a large complex which consisted of two buildings. Building A consisted primarily of offices and workshops of both the clients and of the Rampone administration, while Building B, located adjacent to the docks, primarily housed large shipping bays for incoming and outgoing cargo. At the time of Garrett's visit to the company, Building B had been leased entirely to the Mechanists, who had almost entirely filled all of the cargo bays with their own machinery and cargo.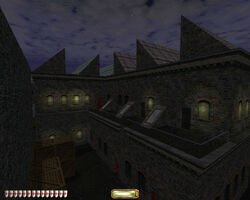 The following is a list of everyone who is known to have rented space from Rampone Dockside Shipping:
Ad blocker interference detected!
Wikia is a free-to-use site that makes money from advertising. We have a modified experience for viewers using ad blockers

Wikia is not accessible if you've made further modifications. Remove the custom ad blocker rule(s) and the page will load as expected.