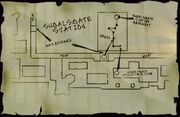 Shoalsgate
is a district of the city. It is likely named after one of the city's gates located near the sea. A shoal is a sandbar, or gravelbar, and its possible the district is built on such a landform.
It is the location of the Shoalsgate Station, Shoalsgate Tavern and Shoalsgate Utility Building.[1]
As the station itself is one of the most well known and prominent locations in this district, the prison is often simply known as 'Shoalsgate' itself.
Locations
Edit
Shoalsgate maybe near Wayside as he visits Madam Volari's at Lord Porter's brothel there under his pseudonym Norman Druart.
References
Edit
Ad blocker interference detected!
Wikia is a free-to-use site that makes money from advertising. We have a modified experience for viewers using ad blockers

Wikia is not accessible if you've made further modifications. Remove the custom ad blocker rule(s) and the page will load as expected.