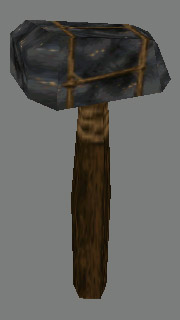 This junk item is a small makeshift hammer, being little more than a piece of rock tied to a stick. One such hammer,
The First Hammer
, can be found in (and stolen from) the reliquary of the
Downtowne
Hammer Temple
in the
TDP
/
TG
mission "
Undercover
". In
Rampone Dockside Shipping
at the
Wayside Docks
(
OM T2 Shipping... and Receiving
) an identical hammer is located within the
workshop
of
Venik Kilgor
along with an
Ancient Hammer
exactly like
The Forge's Child
. Although it is unlikely that these would be the same artifacts, it is still more unlikely that Kilgor would have produced them, making their presence a mystery.
Ad blocker interference detected!
Wikia is a free-to-use site that makes money from advertising. We have a modified experience for viewers using ad blockers

Wikia is not accessible if you've made further modifications. Remove the custom ad blocker rule(s) and the page will load as expected.