Thief (reboot)
Talk

27
4,881pages on
this wiki
Redirected from THI4F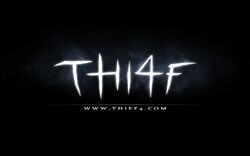 Thief (originally labeled THI4F) is a new installment in Eidos' award winning Thief series. It is currently in the early development stages by Eidos-Montreal Studio. It will be published by Eidos. The game was officially confirmed on May 11, 2009.[1] Thief is not a prequel or sequel to the original games, it is a reboot of the franchise with elements of the original, and is slated for release in 2014 on the PC, PS4 and other next gen consoles.
Some leaked trailer footage here.
Thief Coverage Trailer - Game Informer
Announcement
Edit
A posting on Eidos Montreal's website suggests that Thief IV may be about to undergo development. The post states that, "Eidos-Montréal is proud to announce the recruitment for our 2nd "AAA" project. … A hint! The title begins with the letter " T "… The article then goes on to draw several other conclusions. Nothing is known yet on what a possible new plot might be, apart from claims that it was initially intended to be a "retelling" of the original games. May 11th, 2009 would be the reveal of Eidos Montreal's latest project that starts with a "T".
Confirmation
Edit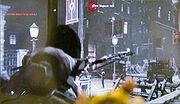 Eidos-Montreal has recruited the "very best core team" for Thief 4, which is in the early stages of development.
[2]
No further details about which game platforms will come for or expected date was revealed. The Thief series fans can connect to the like-minded fans and discuss more about the upcoming title at the
Thief 4 Forum
.
[3]
"
"We're in the early development stages for Thief 4, but this is an incredibly ambitious project and a very exciting one. It's too early for us to offer any specific game details, right now we are focused on recruiting the very best talent to join the core team at the studio and help us make, what we believe will be one of the most exciting games on the market."
"
 
— Stephane D'Astous, General Manager of Eidos-Montreal
Development
Edit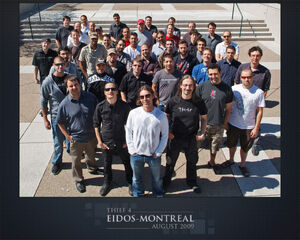 Thief 4 is currently being developed by a team of about 50 talented designers, at Eidos-Montréal studio. The producer of "TH4" (as it is known on the Eidos website) is Mario Aguera, who oversaw the successful release of numerous titles on the Xbox, Play Station and Nintendo Gamecube consoles. Mario has been creating games since the late 1970's.
"
"We are all very excited to be working on such a fantastic project. Good team chemistry and an obvious passion for our work are two key ingredients we look for in maintaining the high production values essential to deliver the quality experience this game deserves."
"
 
— Mario Aguera, TH4 Producer at Eidos-Montreal

In 2010, Eidos-Montréal appointed Paul Weir as the Thief 4 Audio Director.
Controversy
Edit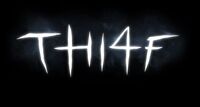 Some controversy had arisen over the name of Thief 4.[4][5][6][7] It is reported that THI4F will not be the final name this game, and is only a working title.[8]
Eidos Montreal is taking the voice work of Thief 4 very seriously,[9] and they are well aware of the feelings of the Thief fan community.[10][11]
Several fans have reacted to the decision to replace Stephen Russell as the voice of Garrett, starting a petition for his return.
Many fans of the original games have shown distaste for some of the things said about Thief in interviews, particularly the lines "We want you to play as a thief, but we don't want to force you to play as a thief."  - Stephane Roy and "We wanted to bring him more for the modern audience of today's console market," - Nicolas Cantin, referring to Garrett.
External Links
Edit
Eidos-Montreal Official
Fan Community
References
Edit